Bioner aims to cooperate actively with the companies in the field of biotechnology. This cooperation occurs in various forms to provide companies a great way to get in touch with bioengineering students, who will soon become the professionals in the field. Some popular forms of cooperation are, for example:
Sponsoring the students' overalls
The freshmen of bioengineering get their own champagne gold -colored overalls every year and carry them throughout their studies. Our business partners have a chance to participate in the project and thus get positive visibility in the entire student community.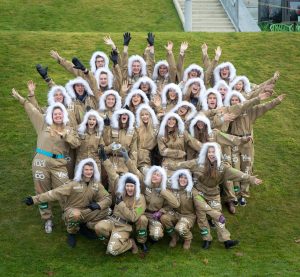 Getting visibilty in the guild's media
Our business partners can use the guild's information channels. By offering summer job and thesis positions, companies are able to reach specific future experts in the field of bioengineering.
Cooperating in the guild's anniversary celebration
The anniversary gala takes place every autumn/fall and our business partners have a chance to get huge visibility.
Company and recruiting events
The guild organizes different events every year, such as the Day of Biosciences and Biosauna. These events are an easy way to make important and contacts in both ways.
Bioengineering students are always eager to come to a visit to an interesting company.
  Our business team has also come up with ready-for-the-taking cooperation packages. Symbiosis Premium package offers very much visibility in every section of the guild's operation. A little bit more concise Symbiosis package covers advertisements in the freshmen overalls and on the web page.
For more information please contact:
Aarni Mäkelä, yritysvastaava@bioner.fi